A website that I look forward to reading every day is the Trader Mike blog. Trader Mike is an accomplished trader whose site offers a lot to the budding trader. He offers a daily link to articles of interests for investors or traders; a daily watchlist of stocks for short term trades; links to informative articles about how to trade; discussions on position sizing and risk measurement; and even goes into the details of his own trading system. In fact I once read that Mike let the Dave from Stock Tickr go over his house and watch him trade for the day. In short, Trader Mike has shown a great desire to help others benefit form his experience. A blog like that is worth reading.

On a lighter note Value Blog Review has learned some little known facts about Trader Mike. When not trading Mike is a race care driver with his very own "Mike Mobile" seen here:











When he has a bad day trading he will also earn a little coin driving part time for Howard Lindzon over at Wallstrip. He can often be seen in the company of Lindsay, the lovely host of Wallstrip as seen here:











This part time job does not come without drawbacks as it does cause tension between Mike and his good friend Trader X, who is widely known to have an unrequited affection for Lindsay. As seen here in these never before released photos of Trader X staring down Trader Mike, the tension is quite palpable:




















Rumor as it from our friends over at the Rad Report that Trader X as well as several other traders are a bit envious of Mike, as Trader Mike is the first trader to have a bobble head produced and marketed on his behalf to commemorate his receipt of the trader of the year trophy, as seen here: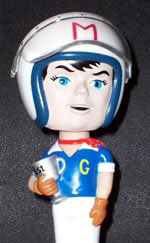 Note the ever present "M" helmet lest you forget it is Trader Mike as well as the "G" which most agree is short for "G-money."